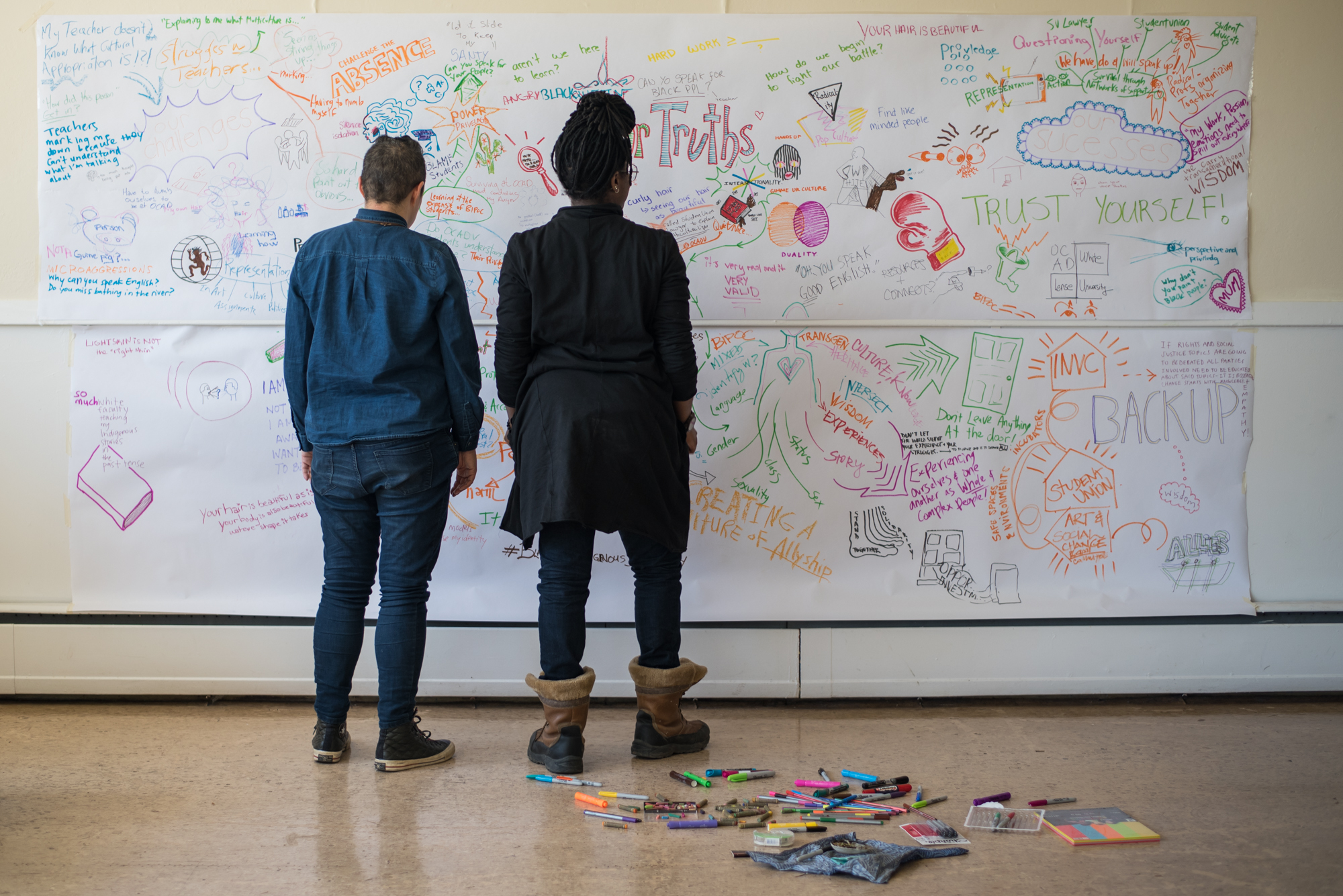 Photograph by Leilah Dhoré
In this micro-credential participants will learn how to create decolonizing, diverse, and inclusive processes to hire Indigenous, Black, and People of Colour job candidates in the creative industries. Participants will be able to use human rights laws to justify their hiring programs, build relationships with communities to tap into existing pipelines, write a position description that speaks to diverse candidates, create qualification standards that account for systemic exclusion, and set up structures for achieving critical mass. This course will have readings, exercises and applications organized into four modules.
Modules / Engagement:
Module 1: Human Rights Laws and Hiring for Decolonization, Diversity, and Inclusion
Module 2: Where are the Indigenous, Black, and POC Creatives? Not where you are.
Module 3: Systemic Exclusion: Cultural Calls and No 'Fits'
Module 4: Reach Critical Mass When Diverse Employees Tell You So
Learning Outcomes:
Upon the successful completion, participants will have gained skills to:
Employ human rights laws to prioritize the hiring of Indigenous, Black, and POC candidates.
Identify non-traditional sites and methods for recruiting diverse candidates.
Evaluate and re-write a position description to resonate with the interests of diverse communities.
Consider how systemic exclusion affects the biases in qualification standards.
Develop a plan to get to the critical mass of diverse employees in organizations or firms.
---
Earning Your Micro-credential Badge
As part of the modules in each micro-credential, you will complete assignments and exercises outlined in each micro-credential. These build towards the required evidence for each micro-credential that is submitted at the end of the micro-credential modules.
Successfully demonstrated application the key outcomes as part of the required evidencing will be recognized with a digital badge for the specific micro-credential. A link to the badge will be sent via email that can be added to resumes and posted on social media platforms.
---
What is a micro-credential?
Micro-credential is a new model that uses short, focused credentials to verify mastery of a skill or competency, and is designed to target high-demand skills, leading to faster hiring.
The process offers a digital credential, which is the official certification of the acquisition of an individual's skills or capabilities. It is awarded in a digital form, which is verified, secure and shareable with peers, employers and educational providers.
Why micro-credentials now?
Micro-credentials can be used to recognize both vertical and transversal skills. Coupled with the in-depth learning obtained in a field of study, micro-credentials can be used to present a more holistic view of an individual's abilities and achievements.
In today's fast-changing workforce and emerging gig economy, a nimble recognition system is essential for both professionals and employers, who are increasingly moving towards skill or competency-based hiring.
To learn more about micro-credentials, please visit the eCampusOntario website.
*Financial aid is available for this micro-credential through the Ontario Student Assistance Program for Micro-credentials (OSAP for MCs). Please visit the Financial Aid and Awards website for more details about the eligibility criteria and application.