CSEV-N105
-
Pivot 2021 Virtual Conference - Presenters Registration
11835582
Course Description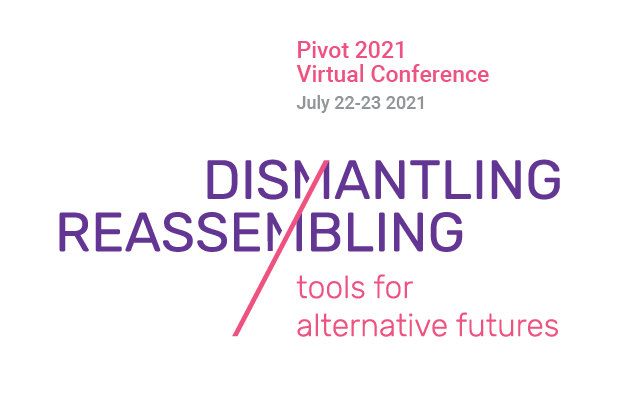 Pivot 2021 Virtual Conference
Dismantling/Reassembling — Tools for Alternative Futures
Presenters Registration
July 22-23, 2021
Hosted by OCAD University – Toronto, Canada
Early bird prices until June 10, 2021
Registration includes access to keynote presentations, thematic sessions, discussion areas, and authors' roundtables. You will be able to access the recordings of all the presentations, discussions, and sessions for up to six months. Through our online platform, you will also have access to all of our social networking features. We will send the schedule to your email two weeks before the conference starts.
You can register as either a presenter or an attendee.
Attendees: Attendee Registration Page
have access to live presentations and thematic sessions, as well as asynchronous access to the recordings for six months;
can participate in discussions and chats during the sessions;
can talk directly to the authors and discuss their work in small-group roundtables;
have access to networking opportunities.
Presenters:
will stream a pre-recorded video and discuss their contribution in a thematic session;
can discuss their work with a small group at an author's table after the session.
The session recording will be available for registered delegates for six months. Post-conference, presenters' pre-recorded video will be made available on the Pivot 2021 website and the DRS YouTube channel. Their paper or visual contribution will be published in the conference proceedings and archived at the DRS Digital Library (presenters' registration fees include publishing and archiving costs).
REGISTRATION FEES
Early bird (until June 10, 2021)

Regular

Pivot World-Weaver Presenter (CSEV-N105 - 001)

(Recommended amount. This payment mode helps us support low-income presenters.)

$200

$200

DRS Member - Professional (CSEV-N105 - 002)

$80

$95

Regular Presenter (CSEV-N105 - 003)

$100

$120

Student Presenter (CSEV-N105 - 004)

$55

$75
If you have any questions please contact pivot2021toronto@gmail.com.
Please disregard any information about Canvas. Airmeet will be used to host this conference.